Email Campaign Results
Everyone wants to see results instantly these days. From movies, TV series to food, (elections!) and even relationships.  Sales and marketing are no different in the digital age. So exactly how long does it take to see the results from your email marketing campaign?
There are a few factors to take into account:
The size of the campaign.
The geographic and timezone spread of your campaign.
Vacation / national holiday periods
At Marketwise, we recommend to try and keep your campaigns limited in the spread of timezones. If you are planning a global campaign, it is best to split it into at least three subcampaigns, Americas, EMEA and Asia Pacific.  This allows your message to arrive approximately in the morning in each region. This can help improve your open rate.
Splitting a large campaign also gives you the opportunity to make it more relevant to a region or country.
A note on A/B testing and email campaign results
If you are planning A/B testing, perhaps different subject lines, or email content, then our recommendation is to wait 48 hours after sending your A and B messages. This gives sufficient time for enough results to come in and to then send the remainder to the winning message.
Getting the campaign results back
On average, opens and clicks will follow a classic normal distribution curve. Obviously there will also be peaks and troughs caused by holidays and weekends. At Marketwise, we find that over 90% of all activity is completed 7 days after the campaign was delivered.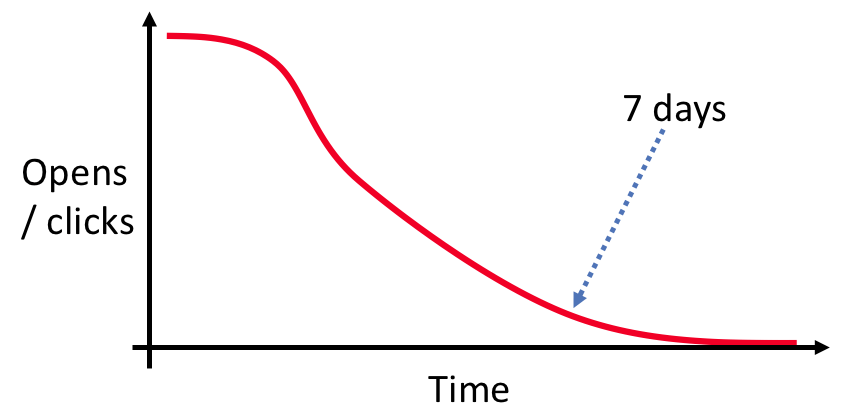 We aim to deliver you a campaign report on the 8th day, but we are also happy to give you informal updates later on. For larger campaigns, a significant number of opens and clicks can still happen after the 7th day.
This curve allows you to better plan how to nurture your contacts.  Sending a targeted reminder after 7 days "restarts your curve" and helps keeps the opens and clicks flowing.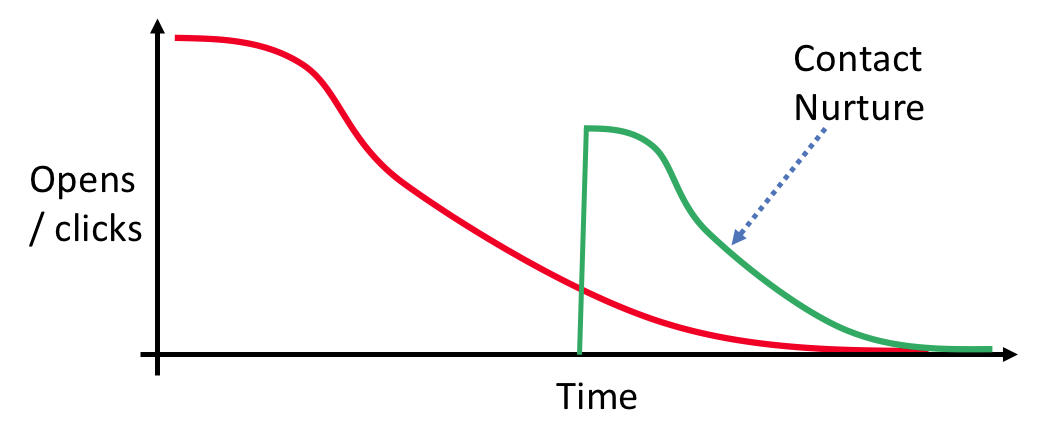 For more hints and tips to help get the most from your email marketing campaign, please visit this page.