Prostate cancer risk
Globally, over 1.2M new cases each year are diagnosed by urologists, making prostate cancer, the second most common cancer in men worldwide.  However, successful treatments have pushed it down to be the sixth most deadly cancer for men. A key issue is measuring the success of treatment and making an assessment of the future risk of recurrence.
Current methods such as a biopsy-based Gleason Score assess a patients risk of prostate cancer recurrence, but are prone to errors, both false positives and false negatives. This leads to further fatalities and possible unnecessary treatments.
New Research
Oncologists at the University of Lübeck have examined cancer tissue taken from 50 prostate cancer patients, looking for biomarkers that can be used as a better indicator of future prostate cancer recurrence. Five candidate biomarkers, such as special-AT-rich-protein-1 (SATB1) have been identified, but none are currently routinely used for risk assessment.
The researchers examined the biomarkers protein expression at multiple tumor sites and correlated their protein expression to the degree of genomic instability, established clinical risk factors, and overall survival.  Genomic instability was assessed by DNA image cytometry.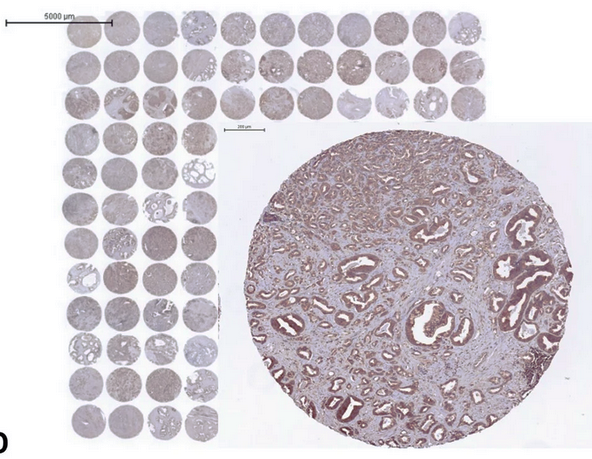 Figure 1: Tissue micro array (TMA) slide with SATB1 stained tissue cores (one TMA tissue core enlarged)
Better results promised
The researchers demonstrated that the new score using SATB1 expression, combined with genomic instability and Gleason Score is a predictor for prognosis in prostate cancer potentially outperforming risk scoring in current use. Further multi-center validation experiments including the evaluation of disease-free survival should be undertaken.
Marketwise email lists
If you need to target Oncologists, Urologists, Genomicsists or scientists working in fields such as biomarkers, protein expression, or flow cytometry, let us know in the form below.
Reference
SATB1, genomic instability and Gleason grading constitute a novel risk score for prostate cancer
Dumke, C., Gemoll, T., Oberländer, M. et al. SATB1, genomic instability and Gleason grading constitute a novel risk score for prostate cancer. Sci Rep 11, 24446 (2021).
Email list count enquiry form
Please get in touch and let us know what you need. Useful information includes any custom searches or what roles, markets and skills are of interest. Any extra information you can provide will help us create the best email list for your requirement.
We look forward to hearing from you.
Get the most from your email campaign. Check out our marketing hints and tips pages on improving open rates, click rates, avoiding the spam folder and many more.