How important is mobile email?
The short answer is that mobile email is very important. If you are not already optimising your marketing messages so that they appear well formatted on a smartphone, then you need to start immediately.
Of the roughly 300 billion email messages sent and received each day, just under 50% will be opened on a mobile device.  Within that, Apple devices and Gmail together account for around 65%. Remember that iMail or a Gmail app on a device can be configured to show non iMail or Gmail messsages too.
Digging deeper, figures reveal that of professionals, around 35%, access emails on their mobile device. This is almost certainly going to grow, as smartphones become ever more powerful.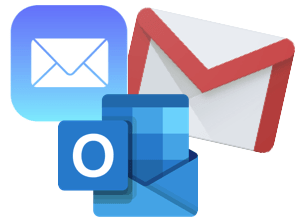 What do you need to optimise for mobile email marketing?
This is not a technical forum, rather we will describe what is important to optimise for the mobile email experience. Firstly the message itself. According to a survey completed by The Relevance Group, almost one third of respondents complained that text was too small and the message hard to interact with. If you need to pinch the screen to zoom in order to see the text, you need to optimise.
For those that did click through, almost one quarter felt that the web landing page was poorly optimised for mobile.  Making your message and any landing pages mobile friendly is a basic requirement. Failing to do even this, will mean your email marketing campaign is immediately at a disadvantage.
How long do people look at email for?
There are two parts to this. Firstly the time it takes to decide if a user wants to even open an email. This is typically 1 to 2 seconds. Therefore, the subject line and the preview text (that's the part of an email body you see before you open it) are critical. These might be all your potential customer reads. Secondly, if the user does decide to open the email…
…research has revealed that for mobile users, on average, a person will look at an email for 15 seconds.
That is roughly three average length sentences.  The first sentence needs to give an immediate summary of the purpose of the email and benefits it will bring. Your second and third sentences should carefully build on this.
In summary, your first paragraph MUST be compelling, give clear information and be enticing. Assume your reader will only read this before making a decision to click on a link, or click on the delete button.
Mobile email marketing checklist
Remembering that between 20% and 50% of emails are opened on a smartphone, here is the summary of the key points:
The first sentence is the most important, make it count.
Your message MUST be mobile friendly.
Test your message on iPhone and Gmail as a minimum.
Check landing pages are also mobile friendly.
Subject line and preview text are critical and must work together.