Applied life science email lists
Marketwise offers various applied life science email lists. We hold a significant number of contacts for the applied life sciences working in a wide variety of roles and locations. As a result, you can reach the right contacts for your product or service.
The applied life sciences build on the basic life sciences we cover here. There is often a close relationship with other disciplines, please see our more detailed descriptions to see the most closely related disciplines and applications, in other words, you can safely widen your target audience.
Often the applied life sciences are used in a more commercial way than the base life sciences. For example Biotechnology uses foundational life sciences such as Bioinformatics and Biochemistry to produce new "bio-products" that can in turn be protected by intellectual property rights.  Genomics builds on the genetics field and looks at an entire set of genes, rather than individual genes.
Please click on the individual links below to see further details of each applied life science that we have categorised.
The parent discipline page, which is the Foundational Life Science, can be found here.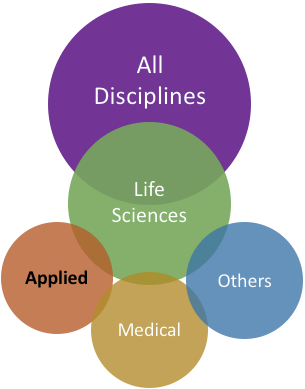 Product and Service Promotion
Promote your product or service within an email list to help generate new sales, raise awareness or communicate special offers.
Use related categories to build your custom email marketing campaign.
Fill your sales pipeline with potential new leads. Push your marketing message out to new contacts.
Build new interest and start to create your own mailing list with converted contacts.
Grow your attendees for your webinars with early promotional campaigns to encourage registration.
Use our dedicated conference package to send a sequence of messages to targeted scientists.
Email list count enquiry form
Please get in touch and let us know what you need. Useful information includes any custom searches or what disciplines or research areas are of interest. If your query is for a particular scientific market segment or region, just list what you need below.
We look forward to hearing from you.
Still unsure about your email list targeting options? Head back to our life science email marketing home page to start your journey.