Medical life science email lists
Marketwise offers many Medical specific life science email lists.  These disciplines are popular choices, especially when combined with countries or regions of interest. We have ten of thousands of individual contacts across the medical life sciences.
Contacts in our Medical Life sciences database work in commercial organisations, government institutions and academia. Work areas include veterniary, pharamceutical, medical research and many others.
Please click on the individual links below to see further details of each medical life science disciplines that we have currently  categorised.
The parent discipline page, which are the Foundational Life Science disciplines, can be found here.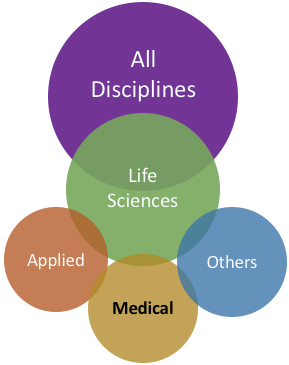 Clinical Chemistry

see more…
Immunology
Example organisations:
Cornell Universit
Pfize
Bristol Myers Squib
Sanofi
Merc
GlaxoSmithKlin
Novartis, Utrecht University
Infectious Diseases
Example organisations:
São Paulo University
German Center for Infection Research
University of Rome
Public Health Agency of Canada
GlaxoSmithKline
Abbott Diagnostics
Centers for Disease Control and Prevention
Medical Chemistry

Example organisations:
Pfizer
GlaxoSmithKline
Bristol Myers Squibb
Merck
AstraZeneca
Sanofi
Medicine

Example organisations:
University of Guelph
University of Illinois
Hannover Medical School
King's College London
University of Cambridge
University of Minnesota
Neurology

Example organisations:

Swedish Institute of Neuroscience and Physiology
Princeton Neuroscience Institute
Oppenheimer Center for Neurobiology
Montreal Neurological Institute
Chongqing Medical University
Walton Centre for Neurology and Neurosurgery
Neuroscience

Example organisations:

Novartis AG
Medronic
GlaxoSmithKline
University of Cambridge
Pfizer Inc
Eli Lilly and Co
Nutrition

Example organisations:
Laval University
Health Canada
NUTRIM School for Nutrition
Institut National de la Recherche Agronomique (INRA)
Evonik Nutrition
German Institute of Human Nutrition
DSM Nutrition
Rowett Institute for Nutrition
Obs. & Gynaecology

Example organisations:

Maastricht University Medical Centre
University College London Hospitals
University Hospital Zurich
Vincent Center for Reproductive Biology
Mayo Clinic
Stanford
Oncology

Example organisations:

Novartis
AstraZeneca
Tampere University Hospital
Peter MacCallum Cancer Centre
Bristol Myers Squibb
BC Cancer Agency
Institut Gustave Roussy
University of Heidelberg
Pfizer
Merck
Ophthalmology

Example organisations:
Institute of Ophthalmology
Bayer AG
Novartis
Roche
Moorfields Eye Hospital
Massachusetts Eye and Ear Infirmary
Cole Eye Institute
Johnson & Johnson
Paediatrics

Example organisations:
Stanford University
Harvard Medical School
Children's Hospital Colorado
Children's National MedicalCenter
University of Cambridge
Queen Silvia Children's Hospital
Beatrix Children's Hospital
Parasitology

Example organisations:

Canadian Food Inspection Agency
Dublin City University
Departamento de Parasitología Mexico City
Wellcome Trust Centre for Molecular Parasitology
Zoological Institute, Karlsruhe
Pathology

Example organisations:
University of Saskatchewan
University of Toronto
National University of Ireland
GlaxoSmithKline
ARUP Lab Institute
Pfizer
Abbott Laboratories
Pharmacology
Example organisations:
Medical University of Vienna
University of Antwerp
McGill University Montreal
Novo Nordisk
Merck
Sanofi
Institute of Pharmacology Hannover
Novartis
AstraZeneca
Pfizer
Amgen
Abbvie Inc
Pharmacy

Example organisations:

FDA
Merck
University of Texas Medical School
US Institute of Public Health
College of Pharmacy
Skaggs School of Pharmacy
Quality Control

Example organisations:
Walloon Agricultural Research Centre
Max Rubner-Institut
Roche Diagnostics
Pfizer
Novo Nordisk
Sanofi
Beckman Coulter
Thermo Fisher Scientific
Respiratory Meds

Example organisations:
Novartis
GlaxoSmithKline
Guy's, London
King's and St Thomas
AstraZeneza
University of Toulouse
Henry Ford Hospital
Rheumatology

Example organisations:

ACURA Centre for Rheumatic Diseases
Aarhus University Hospital
University of Gothenburg
University College London
Thomas Jefferson University Hospital
New York University Hospital for Joint Diseases
Urology

Example organisations:
University of Washington
Ghent University
Nanjing First Hospital
Aalborg University Hospital
Caen University Hospital
University of Munich
University of Zürich
Royal Marsden
Boston University
University of Utah