Molecular biology email list
Description
Marketwise has a large Molecular biology email list, enabling you to promote your product or service to the right people. Molecular biologist in our list are spread across many markets such as universities, medical research and pharmaceutical companies.
Central to Molecular biology is the so called "dogma" that defines the relationships between DNA, RNA and proteins. Consequently, Molecular biology has a close relationship with Biochemistry and Genetics, as shown below.   As a result, all of these disciplines can be carefully used to further widen the scope of your product or service promotion.
Molecular biology concerns the biological interactions within and between cells at the molecular level.

In summary, many areas of research engage molecular biologists and they are available in our extensive, molecular biology email list for you to use for your promotional campaigns. Please see below for some examples of the insititutions and contact descriptions that we hold.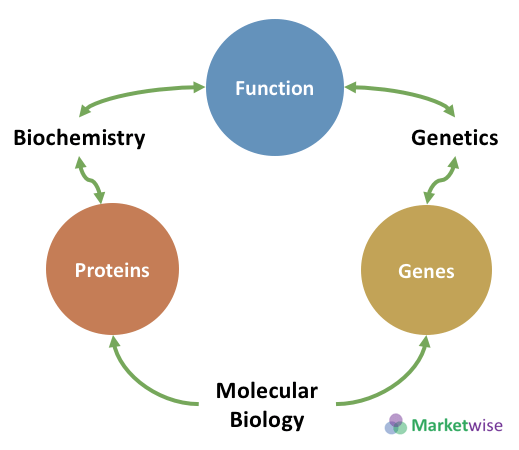 We understand science email marketing.



Find, Prospect and Convert Top Life Scientists With Our Email Lists
Use our custom filtering to find your ideal sales prospect
Build your sales pipeline - fast
Search out Life Science buyers and key decision makers, build your custom email list.
Start feeding your sales team great leads.
Event promotion email list pricing example
Get your event promotion marketing message out to thousands of potential new customers from this list and send reminders as the event draws near. We have two special packages:
Webinar 1000, which targets 1,000 scientists with three timed messages ahead of a webinar, all for just $330, €280 or £250.
Conference 1500, which sends a sequence of four messages to 1,500 scientists to help build conference attendees. The cost is only $510, €415 or £375, often the cost of a single attendee.
Please check out our advice on improving open rates and click through rates to boost your campaign efficiency.
Product and Service Promotion
Promote your product or service within an email list to help generate new sales, raise awareness or communicate special offers.
Use related categories to build your custom email marketing campaign.
Fill your sales pipeline with potential new leads. Push your marketing message out to new contacts.
Build new interest and start to create your own mailing list with converted contacts.
Grow your attendees for your webinars with early promotional campaigns to encourage registration.
Use our dedicated conference package to send a sequence of messages to targeted scientists.
Example establishments in our molecular biology email list
MRC Laboratory of Molecular Biology
Toronto General Research Institute
Roche
Bio Rad Laboratories
Thermo Fisher Scientific
Princeton University
UCLA
Example molecular biologist contacts in our email list
Scientist, Department of Molecular and Comparative Pathobiology, The Johns Hopkins University School of Medicine, USA.
Group Leader, Molecular Biosciences, Institute for Cellular and Molecular Biology, USA.
Head of Department, Molecular Biology, Merz Pharmaceuticals GmbH, Germany.
Group Leader, Molecular Gastroenterology Research Group, Department of Oncology & Metabolism, University of Sheffield, UK.
Email list count enquiry form
Please get in touch and let us know what you need. Useful information includes any custom searches or what disciplines or research areas are of interest. If your query is for a particular scientific market segment or region, just list what you need below.
We look forward to hearing from you.
Still unsure about your email list targeting options? Head back to our life science email marketing home page to start your journey.