How to build an email list fast
Building a mailing list is hugely important for most businesses.  The faster you can build an email list, the faster you can start to monetize your prospects. The list represents a willingly captive group of individuals, interested in your product or service that you can regularly communicate with and sell to. It also protects you against sudden changes in SEO behavior, which can mean you drop lower down search results.
You own your list data and the relationship.
Depending on the cost of your product or service, contacts in a company mailing list can be worth tens, hundreds or perhaps thousands of dollars.  Marketing feeds sales with warm leads to develop and close deals. Email marketing is a great way to build initial awareness for a brand, product or service.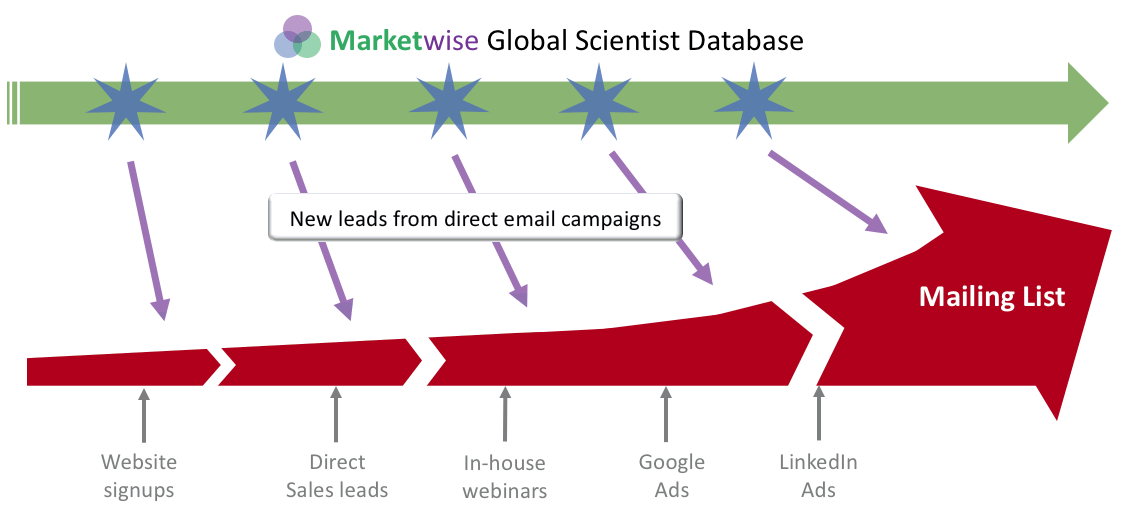 Direct email campaigns feeding leads to build your mailing list
How Marketwise can help
Let's create an example to illustrate our capabilities.
Scientific Products Inc is a fictious company selling a lab product to scientists typically working in the fields of virology, immunology, microbiology and cell biology.  They run a monthly newsletter, two webinars per year and purchase advertising on LinkedIn. Analysis has shown that the average value of a contact in their mailing list to be $120.  To build their own mailing list faster, they decide to try direct email marketing.  They are only able to spend around $1,000 a month on direct email marketing.
Email list builder campaign structure
Marketwise propose the following campaign structure:
10,000 scientists identified as working in virology, immunology, microbiology and cell biology will be selected from our database.
Month 1, the Scientific Products initial promotion will go out to all 10,000 scientists
Months 2, 3, 4, 5 and 6, monthly messages sent to 10,000 contacts. Sign ups, unsubscribes and bounces will be back filled to maintain the total.
What results can be expected?
Results differ according to the message and geography, but a realistic average to aim for would be:
Open Rate = 15% to 20%
Click Rate  = 20% to 40% of opened emails
CTA† rate  = 20% to 30% of the click rate
What is the likely cost?
For a 10,000 contact campaign as described above, the cost would come in at $6,105. This includes sending 60,000 messages in 6 monthly mailings of 10,000 each. Our pricing page has details of how to calculate this.
The critical cost however, is the price per contact added to the Scientific Products Inc mailing list. Taking realistic average ranges of open, click and conversion rates, 10,000 contacts could add 128 contacts each month to the Scientific Products Inc mailing list.
Over the six month campaign period, that's a total of 765 contacts.  At a campaign cost of $6,105, that…
…works out at only $7.98 per contact.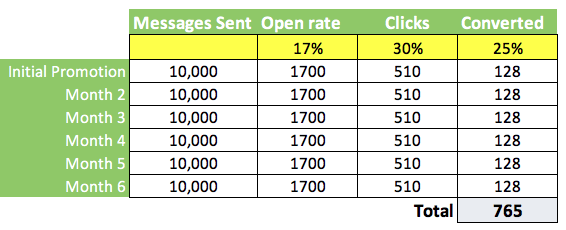 Putting the cost well below the Scientific Products Inc value of $120 for contacts in their mailing list.
Do you know the average value of contacts in your mailing list? This is the key to justifying investment in any sort of third party service provider such as Marketwise.
____
† CTA is the Call To Action, in the above case, signing up to the company mailing list.
If you would like to find out how you can build your company mailing list with relevant, highly qualified scientists, click the button below to get in touch.
Further reading links:
Why Building email lists is important