Using scientist personas
Do you know your ideal scientist persona? Personas are a hot topic when it comes to marketing, but what are they and how can Marketwise help you?
Its worth pointing out that the majority of marketeers say they use Personas – the reason, they are shown to improve engagement rates, in this case open and click through rates.
Briefly, a persona, in this context, is a profile of an imaginary person that marketing have created to represent their ideal customer.  In the consumer world, they are often given names such as "Weekend warrior Wendy", or "Frequent traveller Freddie" and so on, but these are largely meaningless in a scientist context, what matters more are expertise, where they work and what they work on.
Buyer or User persona?
A common distinction in many cases is between those who make buying decisions and those who are using a product.   At Marketwise we rarely distinguish between the two for our scientists. Professors, Group leaders for example are often both users and decisions makers, the vast majority of our scientist database are highly qualified researchers who will have a mixed role as a buyer (or recommender) and a user.
Building a scientist persona
The fundamental starting point is that you understand who your ideal type of person is that you want to reach. This may be obvious, but in many cases some extra research can be useful. A good starting point is to ask yourself – "who does our product solve a problem for"? Once you have an idea, we can discuss how your plans map onto our persona options.
Markets
What markets are you targeting? Universities, Pharmaceuticals, Biotech? Just as important is what you DON'T want to target, for example Veterinary, or Hospital / Healthcare.
Disciplines
Often the scientific discipline is THE most important targeting to get right.  There are a few obviously complimentary disciplines, such as Genetics and Genomics or Neurology and Neuroscience, however, with the right market target, disciplines such as Dermatology and Cell Biology or Oncology can also have relevance. Always check for extra options to expand your audience.
It is better to include more disciplines in conjunction with other filters, to help get the best scientist persona for your campaign. 
Research areas & application
Many scientists specialise in a particular research area, for example, deforestation, cancer, diabetes or epilepsy, these are good ways to help define a persona. Beware of only using a research area, some very specialised areas will result in a small pool of data, therefore it is better to add this category to your persona.
Applications are a good way of defining scientist personas who use particular applications, such as mass spectrometry, PCR or flow cytometry.  As with research areas, its best to ADD these to a persona definition, rather than making it an absolute requirement.
Country
As standard, you can choose individual countries or regions. In some cases (mostly for the USA), we can also search for states, but the data count will be much reduced.
Scientist persona examples: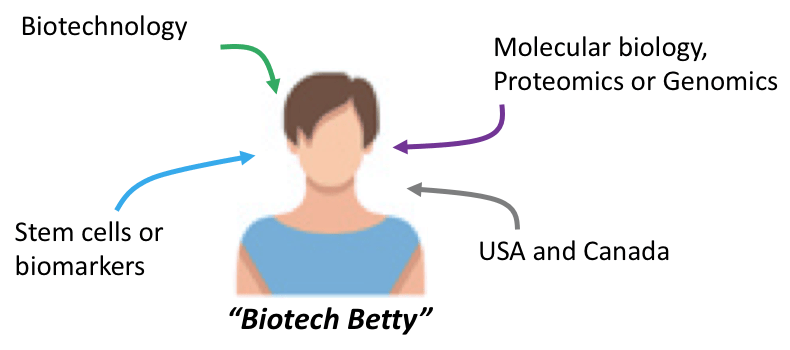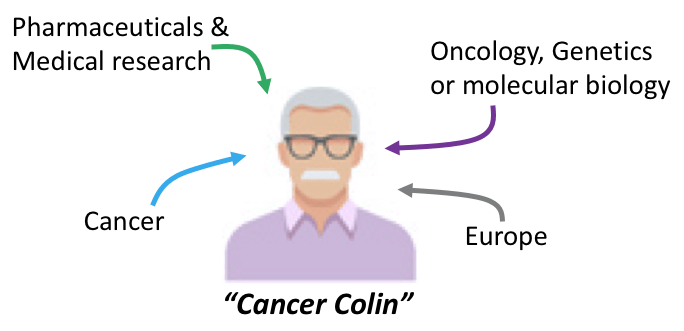 Marketwise scientist personas
Building the best possible scientist persona is critical to the success of your campaign. Marketwise's help to build your perfect persona is included in the basic price of a promotional campaign. 
We look forward to helping you.