Email marketing to scientific disciplines
In order to help you email the right scientists and researchers, our list of scientific disciplines has over 50 options. This means you have the opportunity to precisely target your scientific email marketing campaign.
In addition, you can further filter by market, by research area and by country.
We have created groups of disciplines, to help you quickly find the right ones for your direct email marketing campaign.
Life sciences / Biosciences cover any study that relates to living systems such as, animals, humans, plants and sea life.
Physical sciences are a natural science that covers any study that relates to non-living things and processes.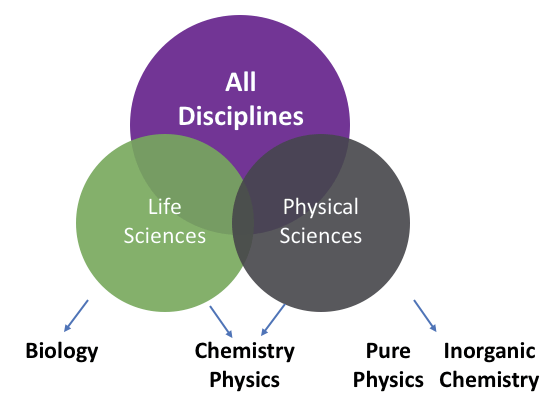 Life Sciences
All foundational disciplines, such as
Microbiology
Genetics
Ecology
Pharmacology
Virology
Click here to see the full list
Medical Disciplines
All human and animal medical related disciplines, such as
Endocrinology
Pathology
Oncology
Immunology
Click here to see the full list
Applied Disciplines
All applied disciplines including scientific research in :
Biotechnology
Genomics
Proteomics
Food Science
Click here to see the full list
Other Disciplines
All other bioscience related disciplines, such as
Surgery
Psychology
Forensics
Psychiatry
Click here to see the full list
Physical Sciences
All Physical / Earth sciences that relate to non-living things and processes
Analytic Chemistry
Pure Physics
Nanotechnology
Materials science
Click here to see the full list
Find New, Relevant Sales and Marketing Leads for Your Teams
Product and Service Promotion
Promote your product or service within an email list to help generate new sales, raise awareness or communicate special offers.
Use related categories to build your custom email marketing campaign.
Fill your sales pipeline with potential new leads. Push your marketing message out to new contacts.
Build new interest and start to create your own mailing list with converted contacts.
Grow your attendees for your webinars with early promotional campaigns to encourage registration.
Use our dedicated conference package to send a sequence of messages to targeted scientists.
Email list pricing example
Getting your marketing message out to thousands of potential new customers using direct email is highly cost effective.
For example, sending a message to 5000 scientists from one of our lists, would cost just $1,330 / €1,110 / £1,000. That's just $0.27 per message, going directly to the inbox of a highly targeted contact.
Please check out our advice on improving open rates and click through rates to boost your campaign efficiency.
The Right Data for the Right Results
You need to be sure your message is getting to the right person.
With a combination of human and machine analysis, our database is cleaned and categorized to the highest accuracy and quality.
You can target with confidence.
You don't need to settle for simple off-the-shelve categories.
Combine ANY of our filters with countries / regions to build your own fully customized email list.
Don't see what you need? No problem, pick your own keywords.
Our multi-stage email verification process checks syntax, removes generic emails, confirms domains and SMTP responses.
Our bounce-back guarantee will replace anything below 90% delivery.
Your investment is safe with us.