Life science email marketing
Marketwise offers comprehensive Life science email marketing options. With hundreds of thousands of contacts in our database, the majority with PhDs or higher, you can get your message in front of the right people.  We focus on scientists, researchers, laboratory and group leaders, typically working in commercial organisations, national institutions and academia.
Our database contains hundreds of thousands of qualified contacts that we regularly maintain. Our clients typically use us in order to:
Generate new sales leads
Invite contacts to webinars or conferences
Offer new subscriptions and memberships to professionals
Participate in life science related surveys
Life sciences cover the study of all living things, the word Bioscience is sometimes used interchangeably. Life science is one of the two main branches of the natural sciences, the other being Physical science, the study of all non-living things.
We divide our Life science disciplines into four subcategories:
Below we list the foundational life science disciplines that we support. Please visit our other pages, for Applied life science, Medical life science and Other life science categories.
The parent discipline page can be found here.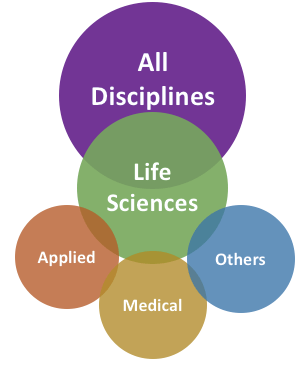 Life science email marketing categories
Botany & Plant Science
see more…
Cell Biology (Cytology)

see more…
Molecular Biology
see more…
Product or service email list pricing example
Getting your marketing message out to thousands of potential new customers using direct email is highly cost effective. For example, sending a message to 5000 scientists from this list, would cost just $1,330 / €1,110 / £1,000. That's just $0.27 per message, going directly to a highly targeted contacts inbox.
Please check out our advice on improving open rates and click through rates to boost your campaign efficiency.