Life science disciplines
Marketwise offers a comprehensive choice of Life science discipline based email lists. With hundreds of thousands of contacts in our database, the majority with PhDs or higher, you can get your message in front of the right people.  We focus on life scientists, researchers, laboratory and group leaders, typically working in commercial organisations, national institutions and academia.
Our database contains hundreds of thousands of qualified contacts that we regularly maintain. Our clients typically use us in order to:
Generate new sales leads
Invite contacts to webinars or conferences
Offer new subscriptions and memberships to professionals
Participate in life science related surveys
Hierarchy of life science disciplines
Life sciences discplines cover the study of all living things, the word Bioscience is sometimes used to mean the same thing. Life science is one of the two main branches of the natural sciences, the other being Physical science, the study of all non-living things.
We divide our Life sciences discipline list into four subcategories:
Below we list the core life sciences disciplines that we support. Please visit our other pages, for Applied life science, Medical life science and Other life science categories.
With prices starting from just $330, its more affordable than ever to promote your product or service to targeted Life scientists around the world.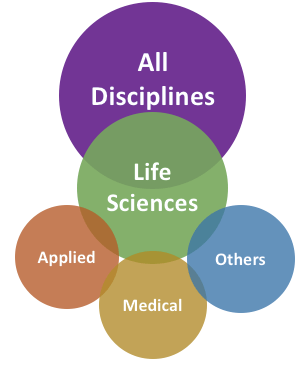 We understand science.
Find, Prospect and Convert Top Scientists With Us
Find your ideal sales prospect, try our custom filtering to hit your target.
Product and Service Promotion
Promote your product or service within an email list to help generate new sales, raise awareness or communicate special offers.
Use related categories to build your custom email marketing campaign.
Fill your sales pipeline with potential new leads. Push your marketing message out to new contacts.
Build new interest and start to create your own mailing list with converted contacts.
Grow your attendees for your webinars with early promotional campaigns to encourage registration.
Use our dedicated conference package to send a sequence of messages to targeted scientists.
Life science disciplines email marketing categories
Botany & Plant Science
see more…
Cell Biology (Cytology)

see more…
Molecular Biology
see more…
Email list pricing example
Getting your marketing message out to thousands of potential new customers using direct email is highly cost effective.
For example, sending a message to 5000 scientists from one of our lists, would cost just $1,330 / €1,110 / £1,000. That's just $0.27 per message, going directly to the inbox of a highly targeted contact.
Please check out our advice on improving open rates and click through rates to boost your campaign efficiency.
Email list count enquiry form
Please get in touch and let us know what you need. Useful information includes any custom searches or what roles, markets and skills are of interest. Any extra information you can provide will help us create the best email list for your requirement.
We look forward to hearing from you.
Get the most from your email campaign. Check out our marketing hints and tips pages on improving open rates, click rates, avoiding the spam folder and many more.