100% Success rate
Starting in late 2019, a trial of immunotherapy to treat specific cases of rectal cancer enrolled its first patient, back then the phrase "your cancer disappeared" was not thought likely to be needed. 
The trial was targeted at rectal cancer patients caused by a deficiency in mismatch repair (MMRd). This represents between 5% and 10% of rectal cancer patients (between about 2,500 and 5,000 a year in the US alone).  MMRd colorectal cancer is responsive to programmed death 1 (PD-1) blockade, so it was hypothesized that checkpoint blockade could be effective in patients with MMRd rectal cancer.
Injections of an anti–PD-1 monoclonal antibody were administered every three weeks, over a six month period. During this time, patients were kept under close examination to monitor progress.
After six months, the first patient, Sasha Roth was told that her cancer disappeared and she no longer needed planned chemotherapy or surgery.  Sasha is still cancer free, two years after the trial finished.
Supporting the Immune system
Immunotherapy is a relatively new treatment for cancer that encourages the bodies own immune system to attack the tumor. Cancer cells have an ability to trigger a "checkpoint" in immune cells, that tricks them to thinking the cancer cells are normal cells. The checkpoint inhibitor used in the trial stops this trick happening, allowing the immune system to directly attack the MMRd cancer cells.
So effective is the bodies immune system, that even after just a few doses, some participants reported positive changes.
The trial continues
At the time of writing, a further 13 people have completed the trial and all have experienced the same result – the cancer disappeared.    This was the first time that immunotherapy alone had been used as a treatment. Usually radiation treatment and surgery are also used.
The Memorial Sloan Kettering Cancer Center trial is still actively looking for further patients that fit the criteria.
Future work
In parallel to the rectal cancer trials, the investigators are looking at other similar cancers.  Patients are being enrolled with Pancreatic, prostate and stomach cancers.  The hope is that similar results will be observed.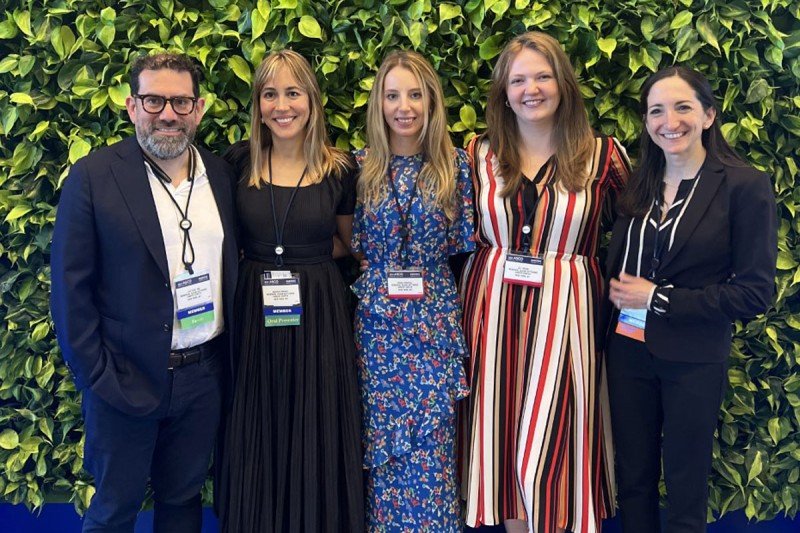 Congratulations to the team
Left to right, Dr Luis Diaz, Dr Andrea Cercek, Jenna Sinopoli, Jill Weiss and Melissa Lumish
PD-1 Blockade in Mismatch Repair-Deficient, Locally Advanced Rectal Cancer
A Cercek, Luis Diaz et al. 
June 5th 2022
Oncologist and cancer email marketing
If you need to get a marketing message out to oncologists or researchers working in the cancer field, we have the data.  Get in touch and tell us what you need.