Immunologist email list
Description
Marketwise's large immunologist email list enables you to promote your product or service that relates to immunology around the world. Immunologists in our email list work in over 50 countries, in national institutions, commercial organisations and universities.
Our database of Immunologists mainly work in the medical research,  pharmaceutical and veterinary markets.
Major related disciplines include Bacteriology, Infectious diseases, Epidemiology, Microbiology and Virology. Related techniques/ research areas include Antibodies, Biomarkers, DNA, Flow Cytometry, Gene Expression, Stem cells and PCR, as a result, these categories can be carefully used to expand a product or service promotion, if they are still of relevance.
Immunology is the study of the immune system in any organism.

Important organs of the immune system include the thymus, bone marrow and lymphatic tissue, such as lymph vessels, nodes, andenoids, tonsils, liver and the spleen.
The modern science of immunology began with Élie Metchnikoff who jointly won a 1908 Nobel prize "in recognition of their work on immunity". Élie is often called The Father of natural immunity".
Further Reading
The American Association of Immunologists
International Union of Immunological Societies
The European Federation of Immunological Societies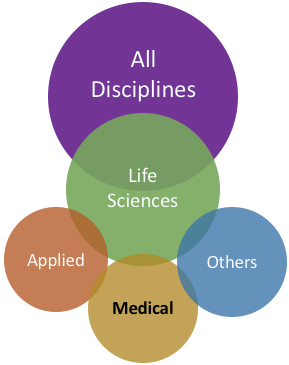 Email list pricing example
Getting your marketing message out to thousands of potential new customers using direct email is highly cost effective. For example, sending a message to 5000 scientists from this list, would cost just $1,330 / €1,110 / £1,000. That's just $0.27 per message, going directly to the inbox of a highly targeted contact.
Please check out our advice on improving open rates and click through rates to boost your campaign efficiency.

Promote your product or service within this email list to help generate new sales, raise awareness or communicate special offers.
Use related categories to build your own custom contact email list.

Fill your sales pipeline with potential new leads. Push your marketing message out to new contacts.
Build new interest and start to create your own mailing list with converted contacts.

Grow your attendees for your webinars with early promotional campaigns.
Use our dedicated conference package to send a sequence of messages to targeted scientists.
Example establishments in the Immunologist email list
Cornell University
Pfizer
Bristol Myers Squib
Sanofi
Merck
GlaxoSmithKline
Novartis
Utrecht University
Examples of our Immunology email list contacts
Scientist, Department of Microbiology and Immunology, Colorado State University, USA.

Scientist, Department of Immunology and Microbial Science and IAVI Neutralizing Antibody Center, The Scripps Research Institute, USA


Head of Department, R&D Cancer Immunotherapeutics, GlaxoSmithKline, Belgium.

Group Leader, Translational Immunology, Cellular Immunology Department, Novo Nordisk A/S, Denmark

Scientist, Immunology and Oncology, Sanofi, France

Group Leader, Department of Molecular Microbiology & Immunology, Johns Hopkins Bloomberg School of Public Health, USA