Clinical trials email list
Description
Marketwise's comprehensive clinical trials email list enables you to market your product or service to specialists engaging in clinical trials around the world.  Researchers in our clinical trials email list work in over 50 countries, with the vast majority working in medical research, for clinical research organisations (CROs) and in pharmaceutical company based markets.
Clinical Researchers can be discipline agnostic, therefore it is difficult to associate a particular discipline to them. Marketwise is happy to filter on additional disciplines or research areas to enhance your custom email list for your product or service promotion.
Clinical trials are highly controlled, phased testing. Drug safety and efficacy are critical testing parameter.

Clinical trials are usually performed in four main phases. The use of 'double blind' techniques, mean that it is extremely hard for the participants or those running the trial to influence the results. Neither will know if the trial drug or a placebo are being used (as a control).  This prevents subconscious bias creeping into the results.  Only at the controlled points in the trial, will a supervisor examine the results and confirm which trial participants were actually receiving the drug.
A very high percentage of drugs fail to make it through all the phases, as indicated by the image below: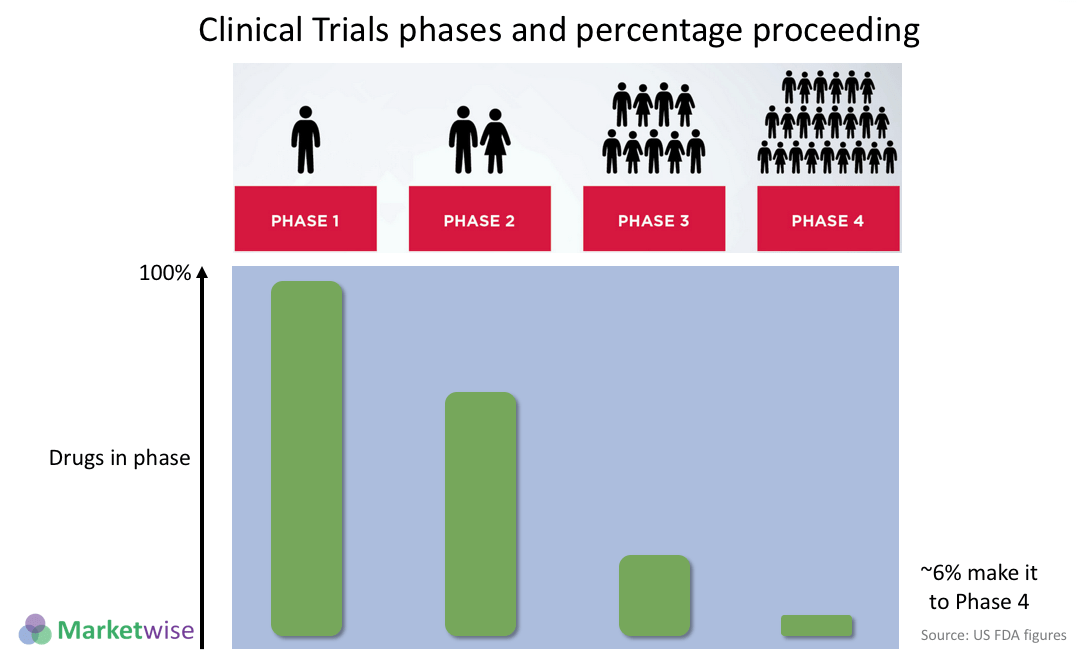 We understand science.
Find, Prospect and Convert Top Scientists With Us
Find your ideal sales prospect, try our custom filtering to hit your target.
We understand sales.
Target Other Discipline Scientists, Key Decision Makers, Influencers and Users
Reach the right people, quickly. Send highly relevant new leads to your sales team.

Email list pricing example
Getting your marketing message out to thousands of potential new customers using direct email is highly cost effective.
For example, sending a message to 5000 scientists from one of our lists, would cost just $1,330 / €1,110 / £1,000. That's just $0.27 per message, going directly to the inbox of a highly targeted contact.
Please check out our advice on improving open rates and click through rates to boost your campaign efficiency.
Find New, Relevant Sales and Marketing Leads for Your Teams
Product and Service Promotion
Promote your product or service within an email list to help generate new sales, raise awareness or communicate special offers.
Use related categories to build your custom email marketing campaign.
Fill your sales pipeline with potential new leads. Push your marketing message out to new contacts.
Build new interest and start to create your own mailing list with converted contacts.
Grow your attendees for your webinars with early promotional campaigns to encourage registration.
Use our dedicated conference package to send a sequence of messages to targeted scientists.
Example organisations in the Clinical trials email list
Parexel International Corp


Novartis

GlaxoSmithKline

inVentiv Health

Covance Inc
Example contacts in our Clinical Trials email list
Scientist, Clinical Research, PAREXEL International Corporation, (in multiple countries).

Head of Department, Global Clinical Research and Development, GlaxoSmithKline, Belgium

Manager, Clinical Research, Novartis, New Brunswick, Canada

Researcher, Phase I Clinical Research Unit, Shanghai Xuhui Central Hospital,  Shanghai, 200031, China

Scientist, Alzheimer's Disease Clinical Research Centre, Gérontopôle, Toulouse University HospitalINSERM 1027, France

Researcher, Department of Small Animal Clinical Sciences, College of Veterinary Medicine, Michigan State University, East Lansing, MI, USA
Email list count enquiry form
Please get in touch and let us know what you need. Useful information includes any custom searches or what disciplines or research areas are of interest. If your query is for a particular scientific market segment or region, just list what you need below.
We look forward to hearing from you.
Still unsure about your email list targeting options? Head back to our life science email marketing home page to start your journey.